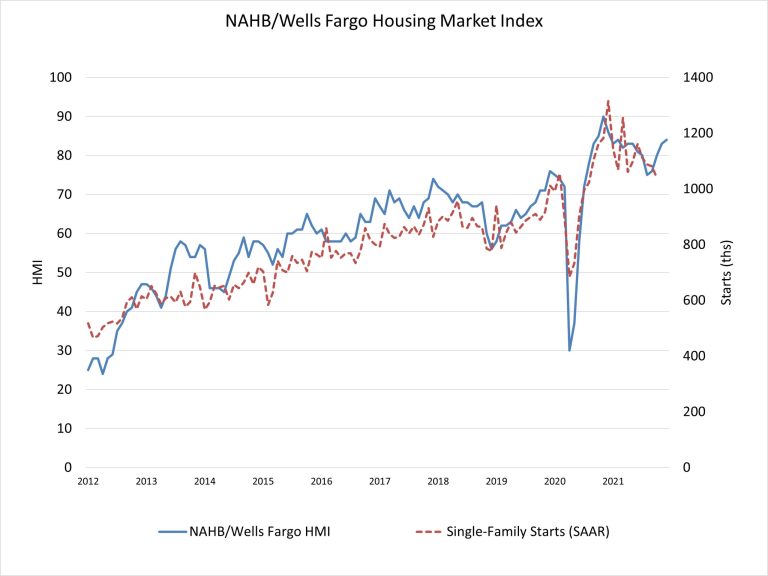 Homebuilder confidence rose in December despite supply-side challenges, marking the fourth monthly increase in a row, the National Association of Home Builders reported, citing the latest NAHB/Wells Fargo Housing Market Index (HMI).
December's reading of 84 was up one point from November, driven by low existing inventories and strong buyer demand, the NAHB said in a press release. The reading matches the year's high in February.
The index's measure of current sales conditions also showed positive builder sentiment, rising one point to 90, while the six-month sales-expectations measurement was flat at 84. The buyer-traffic component rose one point to 70.
Regionally, the three-month moving average of the index jumped four points in the Northeast to 74, three points each in the South and West to 87, respectively, while it rose two points to 74 in the Midwest.
"The most pressing issue for the housing sector remains lack of inventory," NAHB chief economist Robert Dietz said in a press release. "Building has increased, but the industry faces constraints, namely cost/availability of materials, labor and lots. And while 2021 single-family starts are expected to end the year 24% higher than the pre-Covid 2019 level, we expect higher interest rates in 2022 will put a damper on housing affordability."
The NAHB/Wells Fargo survey measures builder perceptions of current single-family home sales, as well as sales expectations for the next six months, as "good," "fair" or "poor." The survey also asks builders to rate traffic of prospective buyers as "high to very high," "average" or "low to very low." The results are then used to calculate a seasonally adjusted index in which any number over 50 indicates that more builders view conditions as good than poor.