The city of Seattle on Monday announced 165 new homes will be available for tenants this fall. The units, which are spread across three newly constructed buildings in the Capitol Hill neighborhood, will serve young adults between the ages of 18 and 24, and individuals experiencing homelessness, or are at extreme risk of soon becoming homeless.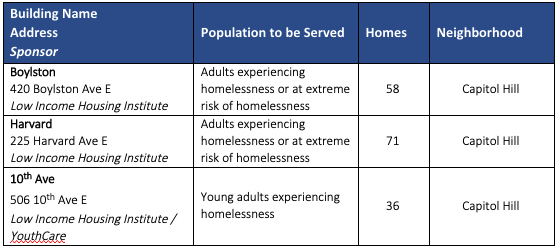 The new units are made possible with state and local investments of $50 million. Seattle's local investment of $25 million is matched by funding from the Washington State Department of Commerce's new Rapid Capital Housing Acquisition program, according to the mayor's office.
"Our homelessness crisis has always been a housing crisis. The City of Seattle continues to make bold investments to address our homelessness crisis as quickly as possible. With this latest investment, we are building on a completely new approach that has the potential to become a national model for rapidly creating affordable housing," said Mayor Jenny Durkan in a press release on Monday.
"Over the next year, more than 1,300 homes will come online to support our neighbors facing the most extreme challenges. With continued partnership, we can further find innovative ways to bring more people into housing in record time," added Durkan.
The city's current homeless population numbers nearly 12,000.