Despite strong growth in the apartment sector nationwide, production in the Seattle area is expected to hit a five-year low in 2021 — a decline of 19% from 2020 levels — reports RENTCafé, a nationwide apartment search website.
Curiously, Seattle is only one of six metros (out of 20) to experience a slowdown in production. Others include Dallas, Austin, Boston, Minneapolis and Denver, with a decline of 46 % in rental unit production — the steepest drop nationally.
In and around the Emerald City, more than 7,574 new apartments are anticipated in 2021, a decrease of nearly 5,800 from 2017.
In all, Seattle recorded the second-largest decline in rates of apartment construction among 109 metro areas analyzed.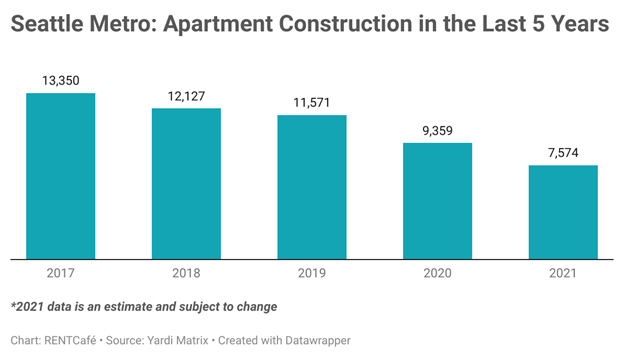 Some 330,000 new apartments are expected to be delivered nationwide with Dallas leading the pack with more than 21,000 units. Still, that's a decrease of 13% for the Big D.
Overall, new apartment construction, nationally, is projected to decrease by about 2.5% in 2021, amid COVID-19 related slowdowns in permitting and financing, skilled worker shortages and soaring lumber prices, according to reporting from Seattle-based The Urbanist.