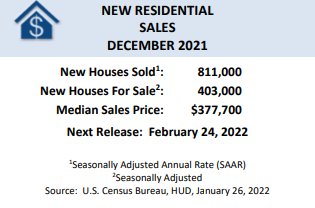 Sales of new homes closed the year on a high note in December, rising 11.9% from November's revised number to a seasonally adjusted, annual rate of 811,000, while the median sales price fell to $377,700, the U.S. Census Bureau and the U.S. Department of Housing and Urban Development reported. 
On a year-over-year basis, the pace of new-residential sales measured in December was down 14%. Altogether, 762,000 new homes were sold in 2021, down 7.3% from the 822,000 sold in 2020. 
The seasonally adjusted estimate of new houses for sale at the end of September was 403,000, representing a supply of six months at the current sales rate, according to a press release. 
The share of completed homes/ready-to-occupy inventory in November was 9.7%, down from 13.7% a year ago, while the share of new-home inventory that was not started increased to 25% from 22%, First American Deputy Chief Economist Odeta Kushi said in a press release.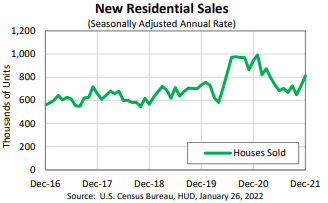 "Demand for new homes will remain strong due to the millennial demographic tailwind," Kushi said. "The lack of existing homes for sale nationwide to meet this demand is supportive of new construction. Indeed, you can't buy what's not being built." 
By region, the number of new homes sold in the Midwest jumped 56.4% from November to 86,000 and rose 14.9% to 456,000 in the South. New-home sales were up 0.4% in the West in December, at 242,000, while they fell 15.6% in the Northeast to 27,000. 
"Despite continued supply-chain issues, builders have been able to make headway on homes, and market demand remains high," RCLCO Real Estate Consulting principal Kelly Mangold said. "This growth is notable because November and December are historically slower months for sales due to the holidays, yet performed strongly this year."