It's been said that teaching a man to fish is more beneficial than feeding him. The implication being that showing others to do something is far more empowering for them in the long run — than doing it for them.
In similar fashion, real estate agents are crediting educational offerings — both in-person and virtual/on-line learning — for boosting their business success, according to a recent member survey conducted by Seattle King County REALTORS®.
In fact, more than 60% of respondents ranked professional development as the top service, with virtual/online learning eclipsing in-person education by 55% to 45%.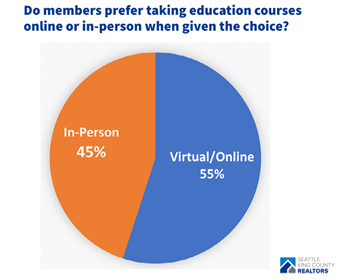 Courses on technology, professionalism and business tools ranked among the top requested courses.
Each year, Seattle King County REALTORS® offers more than 70 courses with a wide range of topics to upwards of 2,000 attendees, according to the association's website.