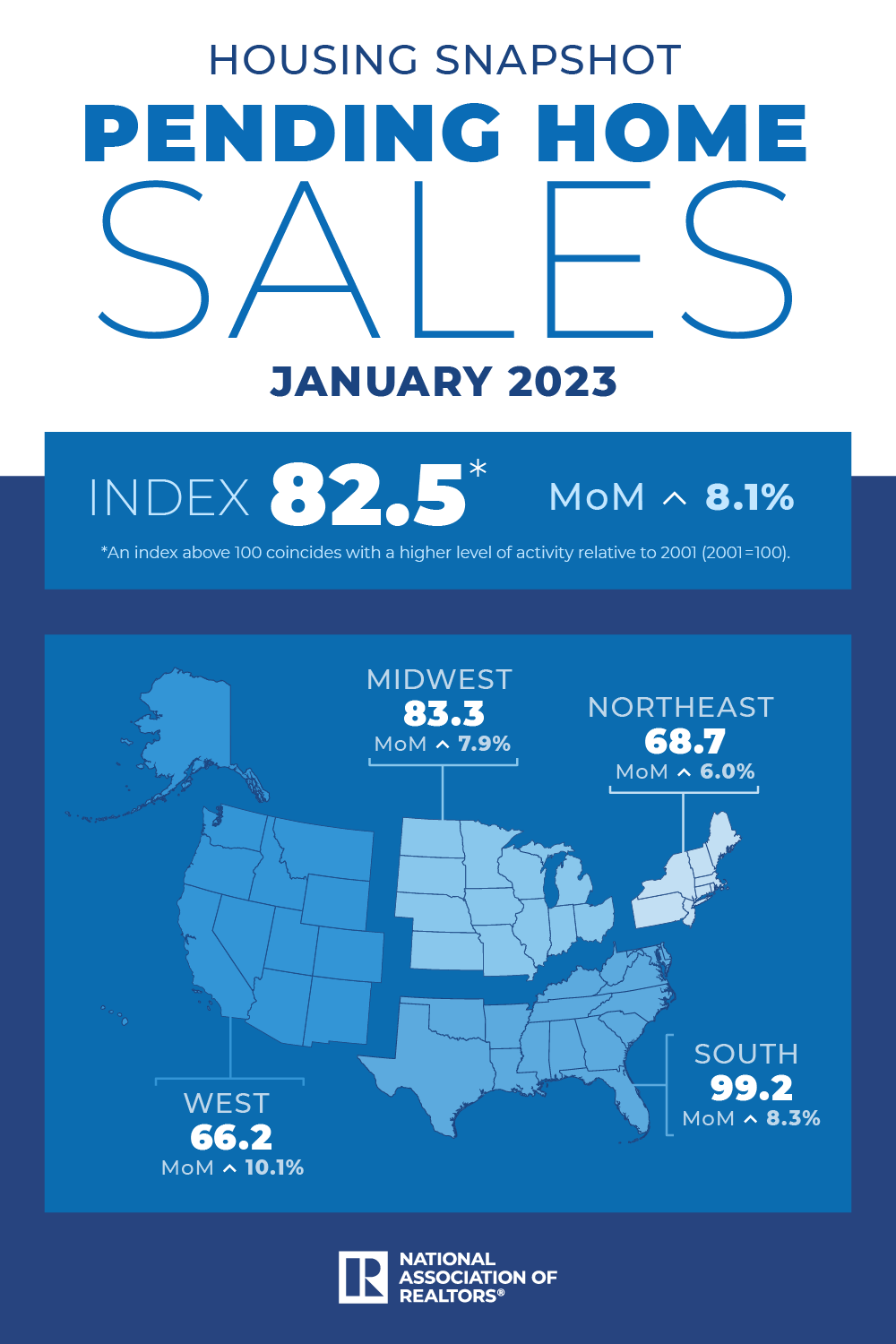 January pending-home sales jumped 8.1% from December, the largest monthly gain since June 2020 the National Association of REALTORS® reported. This was the second month in a row that pending-home sales rose as homebuyers took advantage of a slide in mortgage rates, NAR said, citing its Pending Home Sales Index.
However, year over year, pending sales were down 24.1%.
Pending sales, in which the contract has been signed but the transaction has not closed, are considered a leading indicator and generally precede existing-home sales by a month or two.
"Home sales activity looks to be bottoming out in the first quarter of this year, before incremental improvements will occur," NAR Chief Economist Lawrence Yun said in a press release. "But an annual gain in home sales will not occur until 2024. Meanwhile, home prices will be steady in most parts of the country with a minor change in the national median home price."
Regionally, the pending-sales index was up across the board, led by the West with a 10.1% increase and followed by the South with an 8.3% rise, the Midwest with a 7.9% gain and the Northeast with a 6% gain.
First American Deputy Chief Economist Odeta Kushi said declines in mortgage rates seen in December and January helped boost home sales, but more recent increases in rates have led to reduced mortgage applications.
"There are interested buyers on the sidelines and ready to jump in when the payment-to-paycheck calculation pencils out and when inventory is sufficient," Kushi said. "However, higher mortgage rates reduce housebuying power and keep existing owners rate locked in, preventing supply from reaching the market. The green shoots of spring homebuying are beginning to sprout, but the recent uptick in mortgage rates may have clouded that outlook."