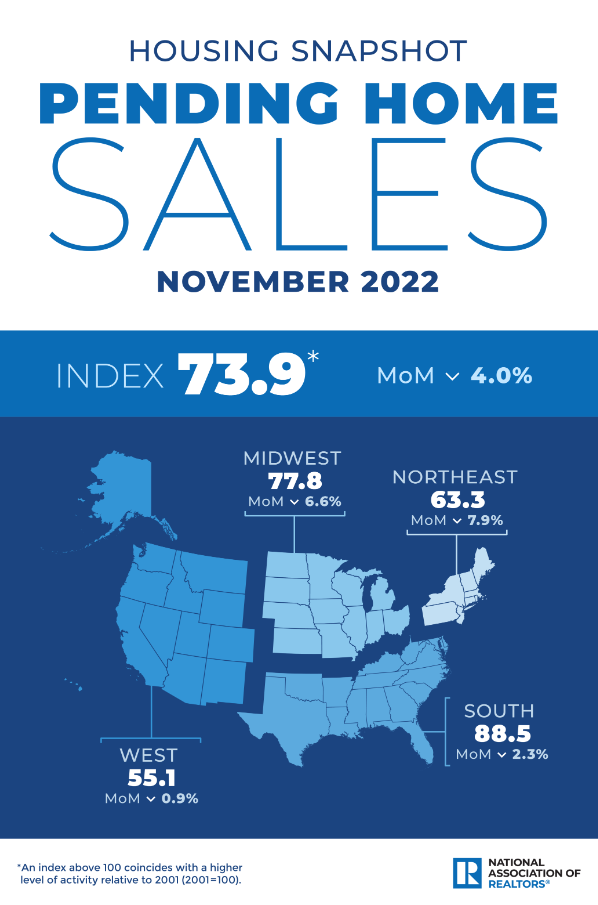 Pending-home sales fell more than expected in November, marking the sixth monthly decline in a row, the National Association of REALTORS® reported, citing its Pending Home Sales Index, which fell 4% from October and 37.8% from November 2021.
Pending sales, in which the contract has been signed but the transaction has not closed, are considered a leading indicator and generally precede existing-home sales by a month or two.
"Pending home sales recorded the second-lowest monthly reading in 20 years as interest rates, which climbed at one of the fastest paces on record this year, drastically cut into the number of contract signings to buy a home," NAR Chief Economist Lawrence Yun said in a press release. "Falling home sales and construction have hurt broader economic activity."
Regionally, the pending-sales index fell 7.9% month over month in the Northeast, 6.6% in the Midwest, 2.3% in the South and 0.9% in the West.
First American deputy chief economist Odeta Kushi said the recent decline in mortgage rates failed to boost pending home sales in November, but mortgage-application data from November and December indicates buyers are returning to market.
"Pending-home sales in November reflect a freeze in the housing market, as buyers remain on the sideline and sellers are staying put," Kushi said. "Yet, mortgage applications point to a thawing, but still cold, housing market as mortgage rates come down."